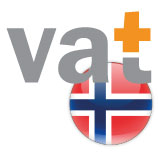 Norwegian government proposes super reduced VAT rate In October, 2017, the Norwegian government presented its plans for the 2018 budget declaring an increase of the super reduced rate from 10%...
Please Read More

Norwegian import VAT must be reported in VAT return
From January 2017, Norwegian VAT returns must include import VAT amounts. Before this recent change, import VAT was reported separately in a form called 'omsetningsoppgave for merverdiavgift'. The reason for...
Please Read More