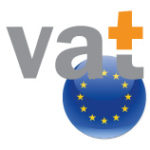 amavat® was created on the belief that compliance services are consultancy led, and that compliance services should be provided with special consideration given to the far-reaching VAT position.

By reassuring and developing the connection between compliance and consulting amavat® are able to realise our main objectives: to support our clients accomplish cross-border VAT efficiency, while achieving their reporting obligations, cost-effectively.
amavat® delivers a wide-ranging and integrated VAT reporting service which has been aimed to function as a 'one-stop-shop' for companies requiring to outsource their international VAT compliance responsibilities. We make available a cost-effective answer to VAT Compliance – but one that's combined with and directed by our experienced consulting team.
Concluding international returns from one integrated location make sure that we are able to provide pro-active guidance and recommendations with a complete understanding of your EU cross-border VAT situation. Having all your 'VAT Returns' managed from one location, brings a greater level of continuity to the process, eluding variants that might arise if reporting took place from different offices and making it more simple to deal with the intricacies of international business.
Why not let our vastly-experienced compliance team help you with your 'VAT Returns'? amavat® currently provides VAT services for a full variety of companies, from Blue-Chip Multinationals, and expanding SMEs, to internet start-ups.
Why not let amavat® represent you when you require Fiscal Representation? While you concentrate on your core business.
amavat® provides a one-stop-shop solution for VAT Compliance within Europe. We assist clients with a single point of contact that speaks their language and handles all VAT related issues with a standard and cost efficient approach.
If you have any queries or questions, please do not hesitate to contact amavat®.
To find out more information please visit www.amavat.eu